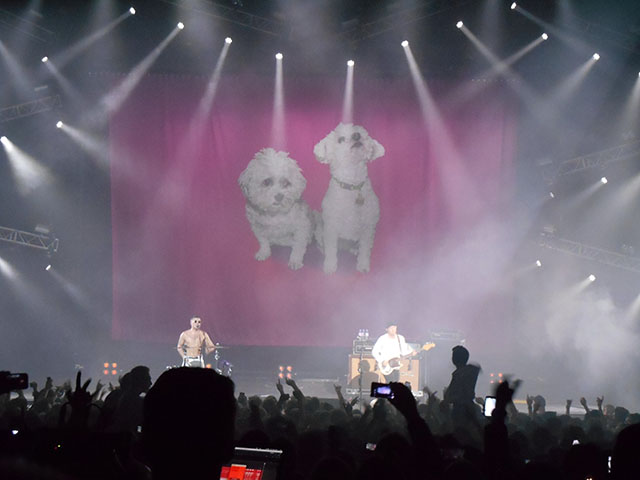 The evening starts ominously at work with a puncture that I have to change with the spare whilst dressed for a night out in London. Once home I quickly wash and change my shirt before walking to the station. An uneventfully journey to London and a quick trip across town finds us congregating outside Lee's office off New Bond Street, where we're greeted by an in demand accountant with numbers at his fingertips. Debs and I order a Peroni and Tagliatelle Alfredo at Il Pizzaiolo, an Italian restaurant across the street where we're joined by Lee.
We make our way to Brixton by tube, stopping at the nearby Trinity Arms, a Young's pub for a pint of Winter Warmer, where we try not to get too involved with the local pub quiz. From there, we follow a small crowd of people to Brixton Academy where the queue is small, but are stopped three times including a frisk before gaining entry to the venue. Once inside we head for the crowded bar, beginning to understand why some are being served two pint measures. With our limited choice, we finally take our lager inside the main arena, spying another smaller bar with a small queue (which actually resembles the, by now, small queue we just left …kinda).
Our timing's great, with the two piece brother band from Royal Tunbridge Wells coming on stage with a hurl of energy directed at the crowd, with a bass line to literally move you, a stunning in your face light show and the reveal of two poodles as the backdrop as featured on the album cover. Unusual to see the drummer rather than the guitarist as the lead singer, who reminds me of a cross between the baby drummer from "Shooting Stars" and Chev Chelios from "Crank", who was clearing loving every minute of it, echoed by his midway address to the 5,000 capacity Brixton crowd. Tracks included many from their album, plus the more recent and well known "Where's Your Car Debbie?" and "Hey", as well as a Christmas cover and a slower number where the singer relaxes atop the left speaker stack (followed by a slightly awkward dismount). The encore includes someone dressed as an unconvincing ray, with calls of "Feed the Mantaray".
A swift exit from the venue leaves us looking for a pit stop and night cap at the refurbished Wetherspoons at Victoria station. Saying goodbye, I catch the last circle line back to Paddington, a burger and finally a train home.