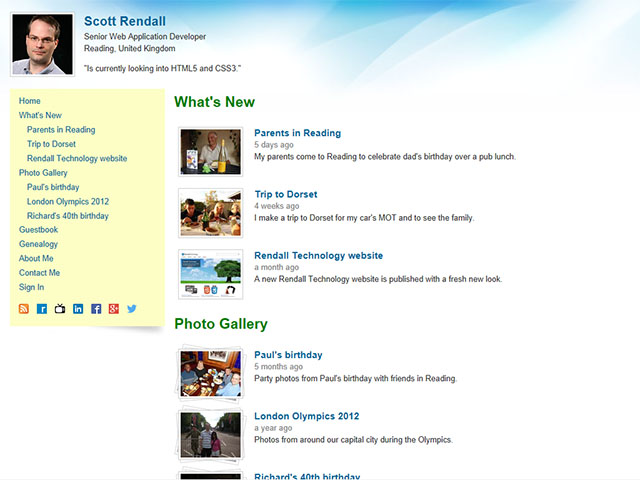 The new release features the familiar cool blue colour scheme, with avatar and profile summary at the top of each page, integrated into a responsive web design which looks and performs well on desktop, tablet and mobile devices. Navigation is achieved with a simple clear menu system and category listing including news, photo albums (including slideshow) and guestbook.
Functionality includes social network integration (share, follow, RSS feed), visitor comments (with human verification and administrator email notification), visitor email to administrator, accessibility options (access keys etc.), image optimisation (reducing size, download times and connection costs) and sign in (with password recovery) for the content management system. Search engine listings can be optimised with site verification, site map, custom URLs, semantics and rich snippets. Configurable page redirects are provided for pages that have moved. The site incorporates custom error handling including error pages, logging and email reporting.
Behind the scenes the site has a new secure custom built content management system. This allows site authors to manage site settings, pages (hierarchy, content, search engine, accessibility, publish etc.) account details (profile, security information etc.). It also allows administrators to manage page templates, users and user roles.
The website has been built with Visual Studio 2012 using ASP.Net 4.5 with VB.Net and conforms to HTML5, CSS3, RSS 2.0 and WAI-A WCAG 1.0.