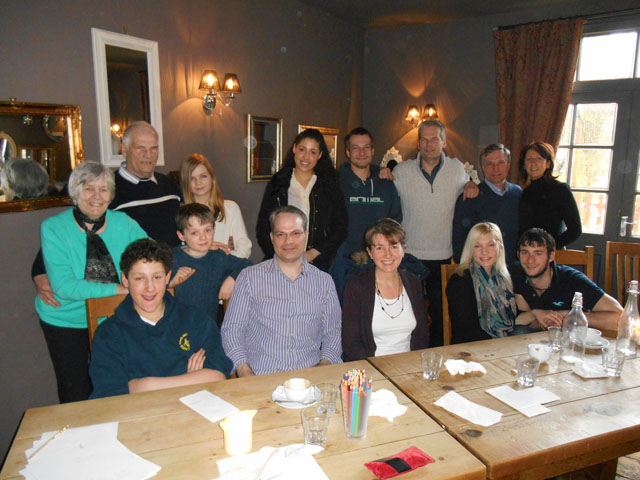 After a failed train journey attempt I drive to Preston Candover near Basingstoke and a pub called the Purefoy Arms for lunch, where I'm greeted by the family sat at a reserved table on the far side of the pub.
The décor becomes an instant and obvious talking point with dark coloured walls punctuated with mirrors rather than pictures to lighten the room - the last mirror count being 18 from Issy.
With awards from the Good Food Guide, the Good Pub Guide, the AA and Michelin, the menu looks inviting - if a little difficult to read written by hand.
We begin with shared tapas consisting of a selection of cold meats & capers, pickled green chili, sliced cheese covered with gelatine and octopus. There's a clear age divide with the main course with many going for burger and chips, whilst I choose braised lamb on a bed of lentils and mint sauce with sides of kale & onions in butter and large chips. The syrup sponge pudding & custard on the desert menu catches my eye, followed by a cappuccino to round of the meal.
Following some camera shy moments throughout the meal, we somehow manage to heard the family together for a photo opportunity before Rob hits the road.
I join Dani & James who retire to the leather sofa in front of the wood burner in the adjoining room, until the realisation that it's sending us to sleep, so I return to the table to chat to my brothers and significant others.
It didn't seem fair for the birthday boy to pay anything, but Lee kindly picks up the tab, thanks Lee.