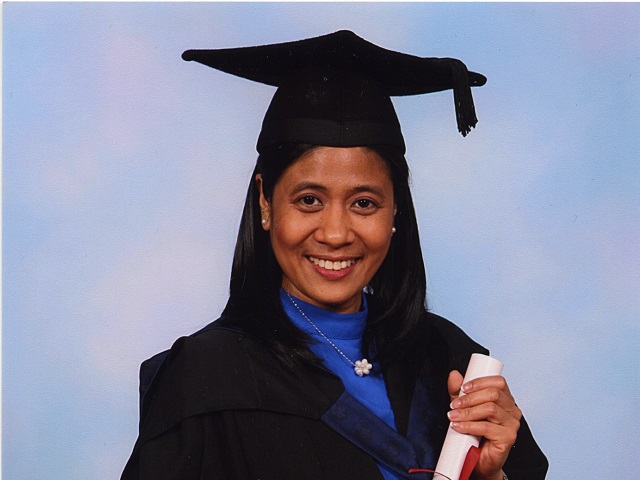 In order to attend the graduation ceremony Bobet's parents fly in from Chicago a week before. Bobet makes the most of their visit with a whirlwind tour of Europe, beginning with Lourdes in France, Rome in Italy and after the graduation Fatima in Portugal.
The night before the ceremony I discover that apart from her ticket and gown, nothing else had been booked for the next day. I spend that evening booking the last four available seats in the rear stalls for friends & family to watch the event itself, looking into tickets for a trip on the London Eye and making a table reservation for an evening meal at a nearby restaurant.
On the big day we run late, so hale a taxi only to find traffic jams all along our route due to the state opening of parliament. We arrive with just enough time for Bobet to sign in, collect her gown and make her way into the hall with the other graduates. All the late nights and hard work on essays culminates in a bachelor of science degree in nursing, as her name is called out she makes her way across the stage to shake hands and collect her scroll. After nearly two hours of name calling we make our way to the lobby for sandwiches and wine before finding Bobet who's queuing for a professional photographer to mark the special day, with us amateurs taking snaps as well.
After the big event we walk along the river Thames to the London Eye where we meet friends of the family who have collected the tickets for our half an hour trip above the London skyline. We then walk across the river to nearby Westminster tube station and travel to London Bridge. We walk through Hay's Galleria a converted wharf, again along the river Thames passing HMS Belfast, to our final destination a 1st floor table at the Dim T restaurant with a view overlooking City Hall and Tower Bridge illuminated in the night sky.