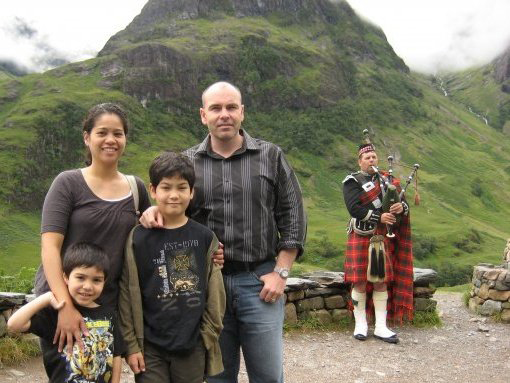 Sunday sees an early start with a 6:20am train from Reading to London in order to catch the first train from London to Glasgow, first class. Once in Glasgow I meet the Gilbert family and Ricky in the hotel bar before checking in. Late afternoon we take a city bus tour (well, half a tour) before meeting the Saunders family for drinks. Following an unrewarding tour of the local restaurants, the lads grab a spicy late night Chinese take-away.
Monday is another early start for a 12 hour coach trip through the lowlands and highlands of Scotland, taking in many mountain (including Ben Nevis), loch and castle views. Time to stretch our legs at Glencoe and a photo opportunity of a lone bagpiper playing in the highlands. We stop for lunch at Urquhart Castle and a boat trip up Loch Ness - Nessie was as illusive as ever. The tour finishes with a stopover at Inverness, with an old shopping arcade, souvenirs and ice-cream. On the return journey we stop at a picturesque village and time enough for Haggis with "neeps and tatties" (swede or yellow turnip, and potatoes) and a pint. Later that evening we are joined by Bobet, before beers and a Chicken Tikka Masala take-away in the hotel bar.
Our final day is all about the Scottish capital, Edinburgh. A 45min train journey sees us to the centre of a drizzly Edinburgh where we head for cover and fast food lunch. The first attraction is Edinburgh's Camera Obscura, a Victorian rooftop chamber where you see live moving images of Edinburgh projected onto a viewing table through a giant periscope - also on display are several floors of optical illusions, holograms and light shows. The rest of the afternoon is dedicated to a tour of Edinburgh Castle - one of Scotland's biggest tourist attractions. We take a pub dinner break with the Saunders family before heading back to the Castle for the 2009 Royal Edinburgh Military Tattoo - an annual series of Military tattoos performed throughout August, as part of the wider Edinburgh Festival, by British Armed Forces, Commonwealth and International military bands and display teams.
Cue Mark and his bagpipes!