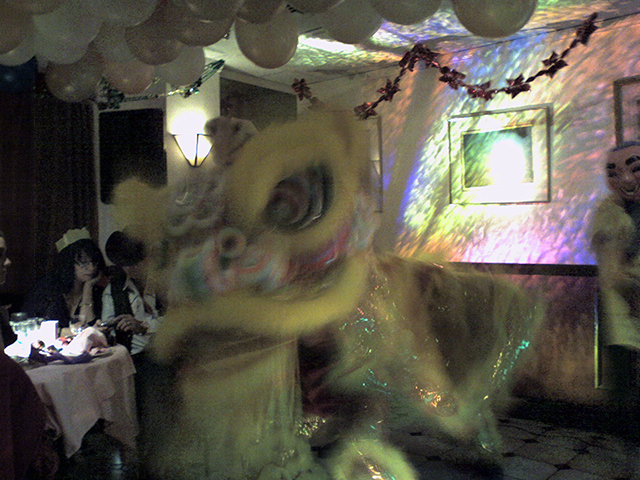 We begin straight after work by heading to the Hobgoblin for Fletcher's leaving do. We say our fond farewells and head towards the river and the restaurant.
As the meal is booked for 7:30pm, there's time for a swift half in an out of the way pub that none of us have been before. As soon as we walk through the door, Clayton starts talking with someone he knows, prompting the rest of us to joke that he'd know someone in Timbuktu.
At the restaurant there's plenty of food to go around, with a typical set menu including spring rolls and crispy duck. We are also treated to some entertainment in the form of a traditional Chinese Dragon dance moving the length of the room in time to drums.
During desert, some bright spark orders flaming Sambuca drinks for our table. Injuries are abound, including burnt hands and lips - although it probably doesn't help if your hand's on fire thinking "That's pretty, where's my camera phone?" rather than putting out the flames.
After dinner the dance floor is opened where the expectant crowd look towards Clayton to show off his moves. Paul also gets up and does his Elvis impersonation. Unbelievably, I too get up and have a boogie.