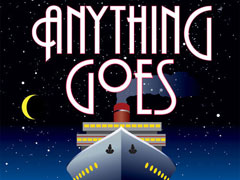 Eve, who I work closely with projects such as the company website, has been going to rehearsals for ages. So when her show opens I decide to go along to provide moral support, and to find out what all the fuss is about.
The shows starts at 7:30pm, so there's time after work for me to head into town for dinner at the Noodle Bar.
I head back to the Town Hall where the Maidenhead Operatic Society presents Cole Porter's Anything Goes, where upon reading the programme I discover that Eve plays the part of Erma, Moonface's moll.
Anything Goes is set aboard an ocean liner, the SS American. The story involves unrequited love, weddings, gangsters dressed as vicars, FBI agents etc. The show is full of well-known songs, starting with "I Get A Kick Out Of You", "You're The Top" and the title song "Anything Goes".
We get tantalising glimpses of Eve's acting abilities all through the show. But at the end of the second act I get what I came for, Eve's solo "Buddie, Beware".