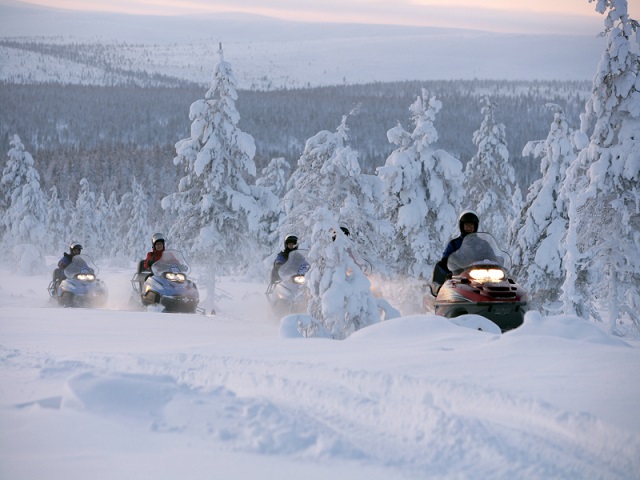 Instead of a Christmas bonus this year our company takes us to meet Santa Claus in Lapland and for an activities filled weekend in the snow.
We begin with a flight from Heathrow where we meet our tour guide for the weekend and my first time in an aeroplane. Our flight takes us to Helsinki before we take off again for Rovaniemi, situated along the arctic circle in Lapland, the northern region of Finland. A bus then takes us to a forested area and our timber clad hotel with reindeer skins hanging from the walls in the lobby and on-suite wet rooms for each of us.
Days start from 10:00am and begin to get dark from around 2:30pm. Our first day starts with a snowmobile safari through the forest to the Arctic Circle Olympic Stadium, where we meet members of the indigenous Sámi people who provide us with regular hot drinks to keep us warm. An activity filled afternoon is ahead including a drive in a rally car on ice along side a retired rally car driver, quad bike ride, tandem skiing and a snowshoe race. We return to our hotel where we are presented with a tasting session of Finish vodkas with cranberry as my favourite, whilst some venture into the sauna before dinner. During dinner a few of us brave the outside in t-shirts weathering the cold for several minutes despite temperatures as low as -26°C, maybe due to the dry still air or possibly the vodka.
The following day begins again with snowmobiles to a local husky farm, where a team of a dozen huskies take each of us for an eerily quiet yet quick ride through the trees. That evening we are treated to a reindeer sleigh ride through the forest to a log cabin for dinner. Once inside we discover reindeer on the menu and someone quips "it's the first time I've been to a restaurant and eaten the taxi driver". After dinner we get a visit from Santa Claus and we all take turns to go up and sit on his knee. We are all presented with commemorative jackets to mark the occasion.
Our final day and our flight home allows us to stop off at Helsinki, Finland's capital to explore the city. One of Helsinki's biggest attractions is Temppeliaukio Church also known as the Church of the Rock, a stunning open plan domed church carved from the rock in which it sits. We also pay a visit to the flagship Stockmann store in the centre of Helsinki, the largest department store in the Nordic countries. I also find time to buy a few albums from the charts, although interesting I'm not sure the music travels that well.
At home we all suffer from soar throats, possibly due to the cold dry air.